It has been some time...
Since we last saw Abbie baby..
To date, Abbie is already 10 months old.
From the tiny little baby, she is now a hyper baby doll!
She dashes across the room in her walker, crawls and flips everywhere. She can already sit on her own too. You know like the Tasmanian Devil, she'll run around the tea table in her walker, and sweeps everything on it that she can reach, onto the floor! When you scold her, she laughs.
But... her problem is, she is very lazy!
Instead of sitting, she leans on anyone and anything behind her. Instead of crawling on all fours, she does the leopard crawl, rolls around, flip here and there, etc.
Abbie loves to watch Hi5! She can sit still at wherever she is(Yes, it is only then when she'll sit on her own), and stares at the television screen.
Her first little tooth is growing. Her teething time kinda late.
Here are the pictures! Enjoy!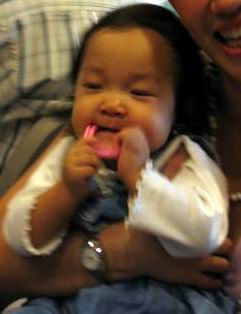 Bite!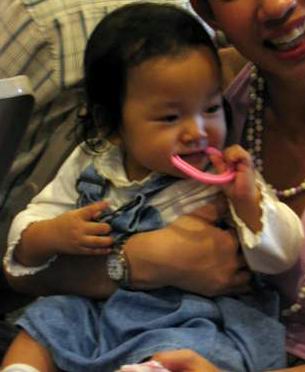 BiteBite!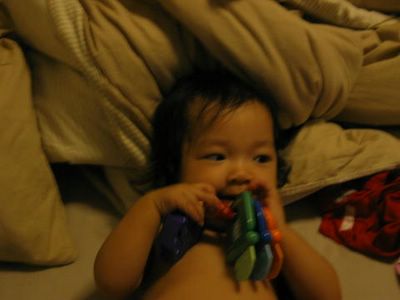 BiteBiteBite!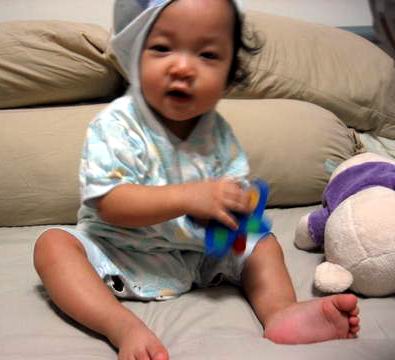 Can la! Can la! Let you bite!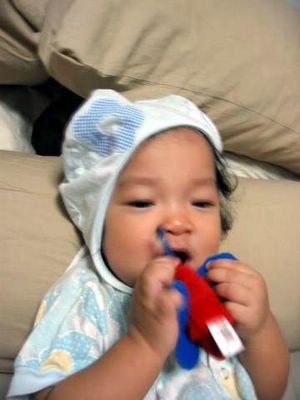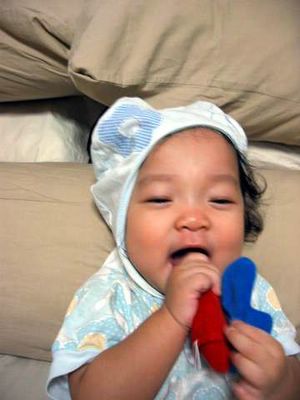 Happily biting!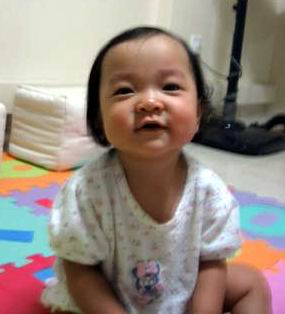 Sweetie Baby.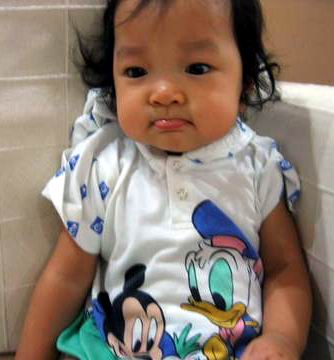 'My hair is so messy' *Bian zui*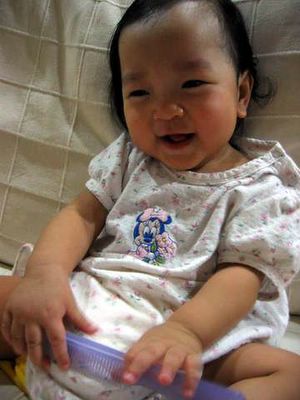 Pretty baby wants to comb her curly-twirly hair with her purple comb!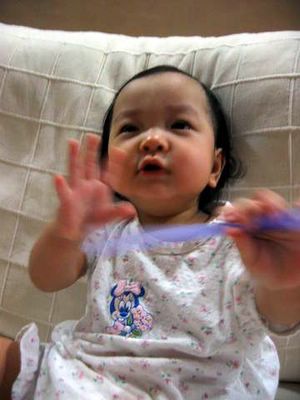 Thus she looks for people to help her!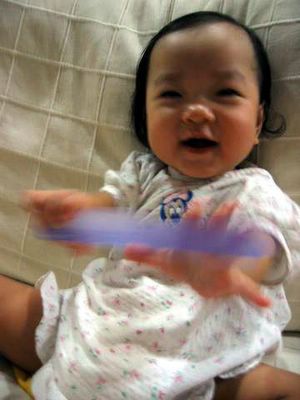 And excitedly gives the comb!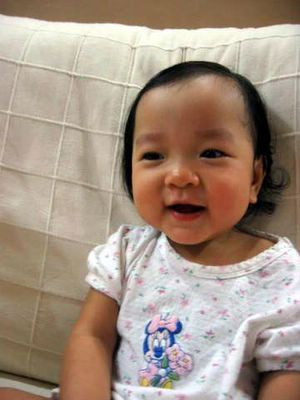 Happy baby with tidy curly-twirly hair
Last one.
My favorite of the batch.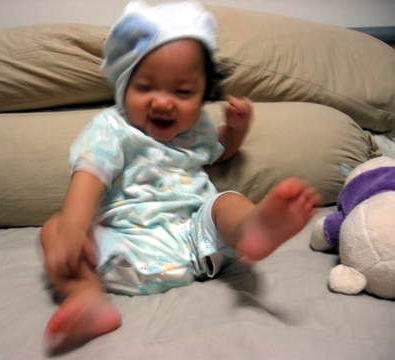 Awwwwwwwwwwwwwwwwwwwww...
There are many of you out there who are 'questioning' the existence of this blog.
Seriously, do you think any of you possess the power to ask me to blog, or not to? Please lah, don't make me laugh, can?
This very blog is here for my own reasons and for anyone who enjoys reading it. I write for myself, for my family and my friends. I stopped blogging once, and came back, mainly because of Abbie. This blog will contain entries of her, and writings of mine, her Ah Yi, for her to read in the future., if she wants to, that is.
For those who don't like me or my blog, do not worry, the feeling is mutual.
I DON'T WELCOME YOU NOR YOUR COMMENTS. BYE.
For those who have left kind words and love/support for Abbie, my cousin, cousin-in-law and me are grateful for everything. Hope you all enjoy all the photos that I've posted, and there will more to come!