PIGUDALIYAOYAOYAO
My tagboard is pretty active eh?
Good good good, at least my friends can be entertained while I'm not blogging.
For those who are very nice to speak up for me and my friends, thanks alot. There's no need to be affected by the negative or malicious ones. Everyone is entitled to their own views.
And I seriously don't bother much. ;P
Anyway, how was weekend for you guys?
I watched Initial D and now I'm hooked on the cartoons.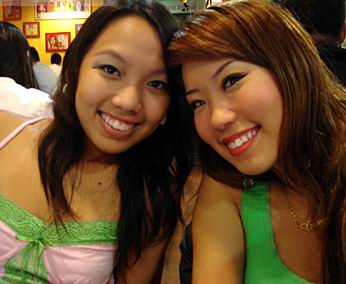 Us, before the movie.
Stayed over at Yanyan's place on Friday.
On Saturday, we joined my cousin at the Metro warehouse sale.
After that was a meet up with
Mr Sia
followed by KTV till dawn.
With only an hour of sleep, crawled to Sentosa with Danene and Yanyan.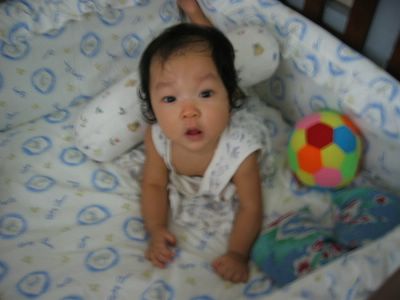 AGOOGA!(Huh? Ah Yi you crawled ah? Must be very ugly)
BAH! (I want to show off my pictures la!)

OKOK! Ah Yi will give you whatever you want.
You want Wang Da Niang's balloon? Or you want the bottle?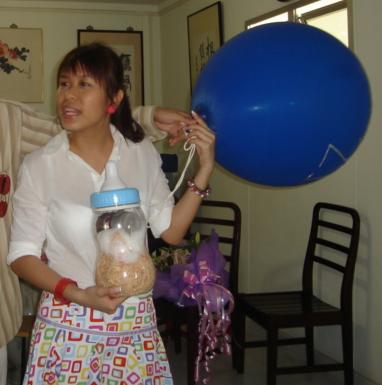 Next time Ah Yi go her house to steal for you ok?
Or or you want Zheng Sao's mirror?
But don't want la! She's very smelly.
Ah Yi buy a nicer one hor.
Sayang sayang.
BOO! (Ya ya! That day when she carry me, her armpits were very smelly. But have to take pictures. Then Ah Yi very cute when you play BOO CHAK with me. See I smile? Pretty?)

Poor baby darling. Next time Ah Yi protect you. You are the prettiest.
AH! (Then I fall sick.)
GR GR. (I'm so pityful.)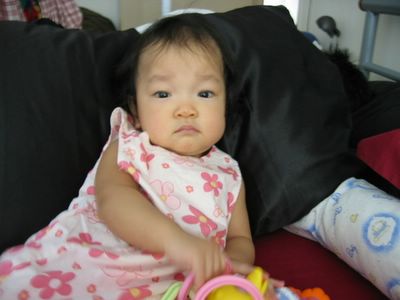 OOWWWWW. Ah Yi loves you ok?
I'll put up all your pretty pictures. Then we ask all the gorgors, jiejies, uncles and aunties to flick PI SAI at Zheng Sao ok?
BOOOOOOOO! (Ok! I'm tired. Ah Yi help me beat Yanyan auntie ok?)
*kisses Ah
Yi*
Anything my darling En En says. *smitten*