Miss me?
I'm back!
I just came back from Bintan. Spent 3 days 2 nights there with Yanyan. She is still there with her friend, sleeping in the crammy tent while I'm going to lie comfortably on my
bed
. WOOHOO!!
Seems that alot of stuff happened these few days, shell address them one be one later.
For now, let me introduce to a friend I made during Yanyan's birthday chalet.
She will take over after the introduction.
Presenting to you...
Miss
音音
!
"大家好!
我是音音!
音音是我!
Hello ebweebardy, muai nam ish Yinyin. I am beri pwetty.
I want to blog leh. Then I can be famous like Xiasuay and have enborsements. Since I so beautipul.
Today, I shall blog about this beri pwetty girl plen of mine.
She's attractive, slender, tall and has beri beri nice compwexion.
She was my poly classmate, and now she is in Perth, Australia studying for her degree. Very poor thing leh her, rushing for assignments now.
Seriously hor, I miss her alot alot leh. I miss her bimboism and our KTV sessions.
FASTER COME BACK!!!
But for now, I just wanna say
HAPPY 21ST BIRTHDAY,

JUNE

马于薇!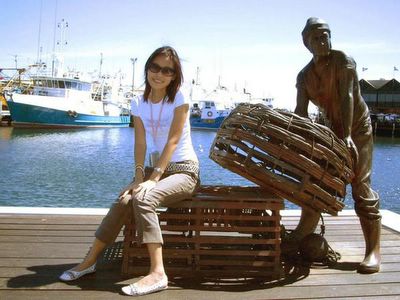 I LUB YOU!
MUACKS!!
Solie la. I beri poor. If not, I'll go Perth to surplise you.
To make up for it, let me show you another of muai pwetty pwetty face! Don't miss me ah!
Babai."
(音音's pictures are products of our beloved June.)